Empire labs 公司在1996年成立於舊金山。這家公司一開始從事高品質的客製化醫療級義肢製作,就因為公司製造的產品具有安全、高品質及簡單塑模的優勢,使得這些具有獨特配方與品質的醫療級義肢在業界中迅速的竄紅。
        不久之後就連好萊塢片廠也找上了Empire labs 公司,他們把這些醫療級義肢產品的元素大量運用在恐怖片與特效影片中,原因是產品的簡單製作及平價化但卻可以創造出前所未有的細緻人體部位模型。在1997年,某大影片製作公司開始要求Empire labs 製造一些各種不同形狀、尺寸及 大小的男性生殖器官,因此Empire labs 在經過一些小改良之後,第一個「DIY情趣按摩棒」誕生了!這產品剛上市就造成轟動,因此,Empire labs決定將此產品做的更精緻及美化包裝後推上國際。
DIY 情趣按摩棒是情趣用品裏屬於最特殊的產品,
一般情趣用品都是由廠商設計再由工廠製造包裝後再販售.
       唯獨 Clone a Willy 是可以自行在家製作,此產品簡單,安全,不管什麼形狀,大小都可以由您自己決定.Clone a Willy 不但可以促進兩個人的感情,也能讓您發揮想像空間作一個專屬您自己獨一無二的按摩棒,不在受限於現有產品的限制,添加您在閨房裡的樂趣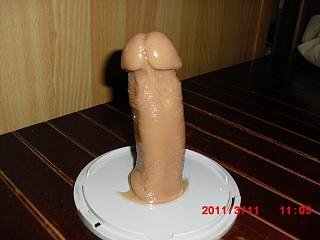 感謝

 

lusi 先生

提供製作完成成品圖 (你猜猜這根屌有多高~~竟然有

16.5公分哩

)
,
也可以將套件中所附的電動棒加入變成專屬的電動按摩棒,
就可以自己玩自己囉
。

CLONE-A-WILLY - KIT DEEP SKIN TONE
The Deep Tone Clone-A-Willy's medically-tested molding gel process captures incredible, life-like detail, making this the most personalized vibrating sex toy you will ever own. The Deep Tone kit contains the same supplies as the traditional Clone-A-Willy kit, but in a realistic, dark brown skin-tone. Use the Deep Tone Clone-A-Willy to put the spark back in your long-distance relationship, or replicate your lover's penis to double your pleasure and fun. The Clone-A-Willy kit makes a great romantic gift for birthdays, holidays, showers, anniversaries, and much more.
1. Mix water with specially timed molding power.
2. Insert your willy into the molding tube until it solidifies.
3. Pour the rubber into the mold.
4. Wait 24 hours and remove your new replica.